About Your Guide, Clifton Ames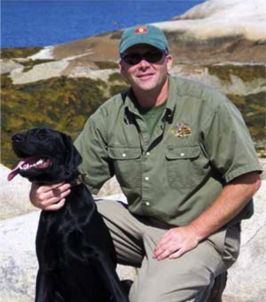 Clifton Ames is a Mid Coast Maine native who comes from a long line of sportsmen and has spent his life gaining hunting, fishing, and recreational experiences throughout the state.
Clifton has been a Registered Maine Guide since the early 90's and a Master Maine Guide since 2002. At 48 years of age, his experiences have included all types of hunting and fishing and past endorsements such as NRA
Distinguished Expert Rifle Marksman
,
Certified Archery Instructor
,
Bow Hunter
and
Hunter Safety Instructor
. Clifton has also earned his
U.S. Coast Guard, Master, Mate
,
Captain's License
rated for vessels up to 50 tons. This he uses as a Sea Duck guide during the fall winter months
During Clifton's career as a guide, he has had the good fortune to provide a wide variety of services. Some of these are as follows: moose hunts, bear hunts over bait and with hounds, deer hunts, turkey hunts, rabbit hunts with his beagles, coon hunts with his Blue ticks, upland game birds, and Sea ducks hunts with his labs.
In addition to owning and operating his own guide service in the Mid-coast area Clifton has subcontracted his services to South Branch Lake Camps as "first" fishing guide, offering trips on South Branch Lake, the Piscataquis River, and several area "stretches" of the Penobscot River. 7 seasons and thousands of fish later, Clifton is still a valuable member of the South Branch Lake Camps team. If you're a spin-cast or fly fisherman, Clif is happy to show you what you need to do to catch the "Big Ones." His "laid back" style and "it's your day" attitude make for a very fun and pleasurable experience.
Whether your passion is hunting or fishing, Clifton is at home in the forest, fields and inland and coastal waters of the State of Maine, and he is happy to share his lifetime of knowledge and experiences with you and your family.